Exclusive Offer for KAT LOCO Owners! Get LOCO S 60% OFF before October 31!!!
Own a set of KAT loco? Had some nice VR adventures with it?
To show our gratefulness for your support and trust in choosing our technology, we have the honour to let you know of a special opportunity to upgrade your KAT LOCO to KAT LOCO S. Join us in transition to the second-generation Loco-motion experience and immerse yourself in a jolly VR journey!
Level up Your KAT LOCO!
KAT LOCO S represents an all-round upgrade on the basis of the original KAT LOCO. All KAT LOCO enthusiasts can get their KAT LOCO upgraded to KAT LOCO S worth $229 with 60% OFF, for just $89 before the activity ends on October 31 of this year!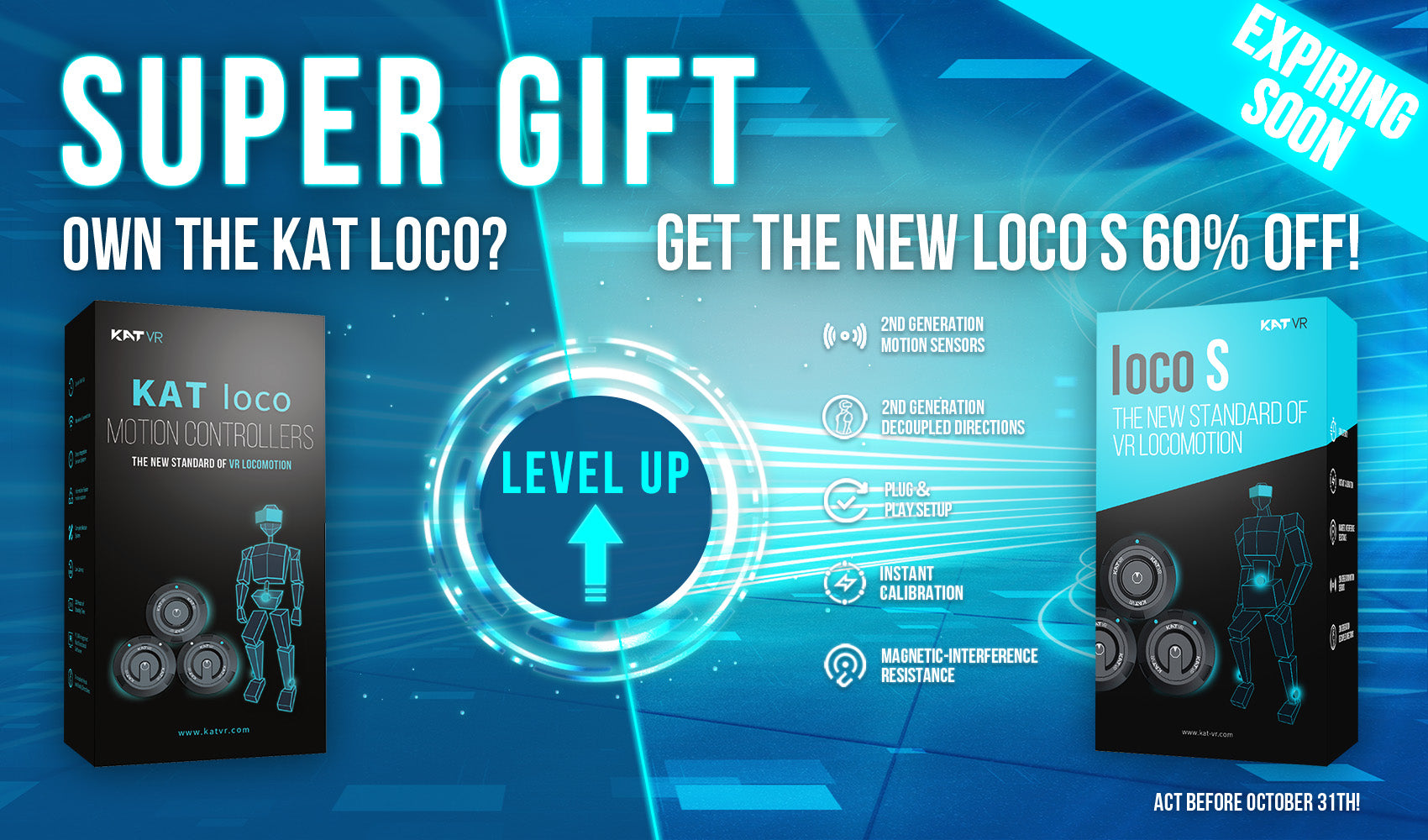 What is the KAT LOCO S?
KAT loco S is a second-generation device of the loco series that not only includes all the advantages of the original KAT loco but also improves on all fields and brings in multiple technological innovations such as second-generation motion sensors or instant calibration.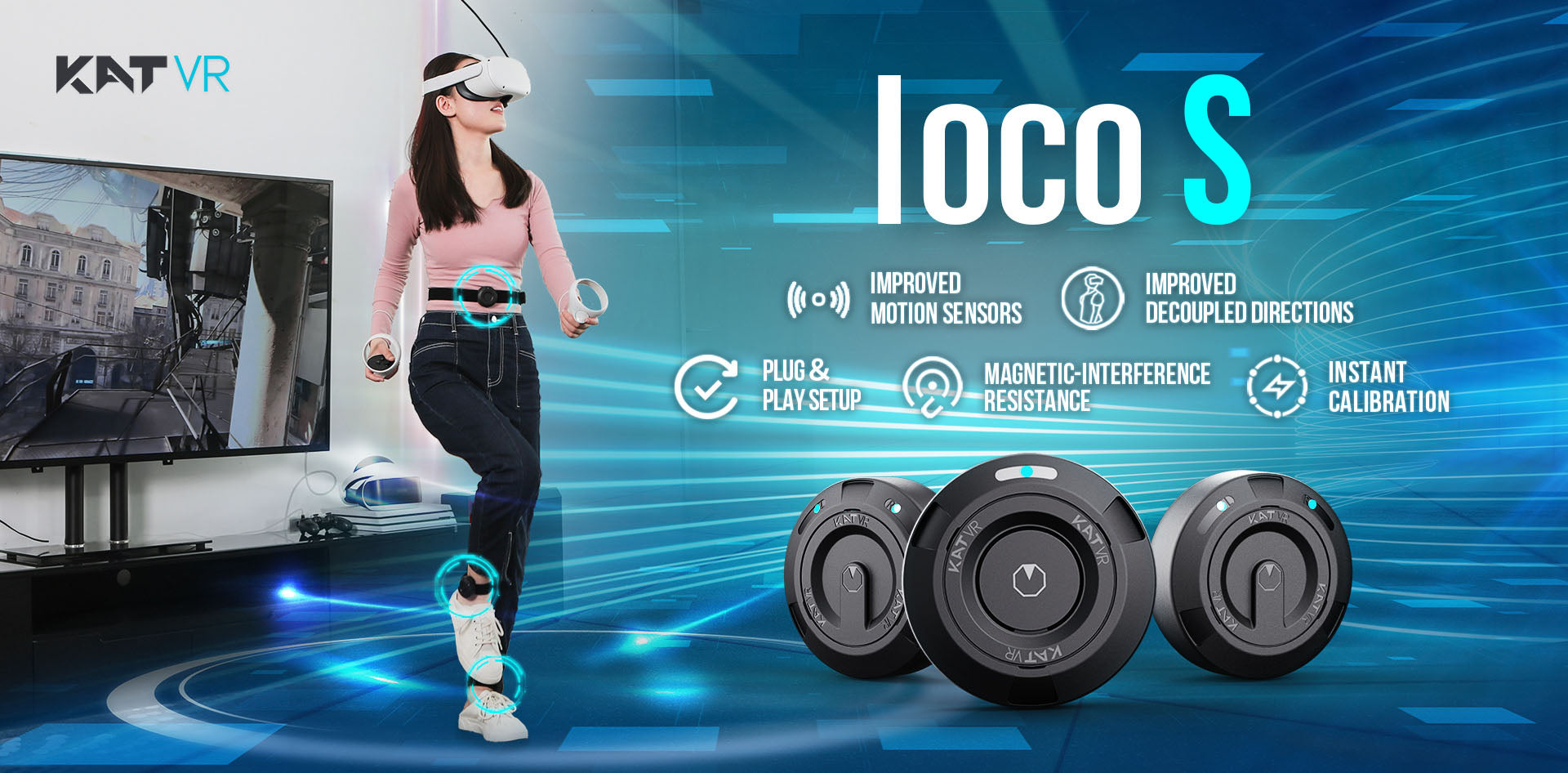 9 Reasons for Choosing KAT LOCO S:
Support of all actions you might need in VR games
KAT LOCO S supports all actions you might need in your virtual reality adventures from RPGs, through shooters to horrors and story-driven adventure games!
Easy setup – put on & dive in
The new loco S is even easier to set up, quicker to put on and simpler to use. Getting ready for a VR Locomotion adventure takes less than a minute!
Wireless Sensor Communication
Bluetooth 4.2 Connection
Forget about magnetic setup and time-consuming device calibration procedures!
No initial calibration procedures
Smart direction calibration
Magnetic interference resistance
Saving your time, money and the plannet!
Ultra-Long Battery Life
Reduced Battery Drainage on Standby
Fast Charging
Second-Generation Motion Sensors
The loco S is equipped with our newest motion sensor for maximum action accuracy at all times.
Enhanced Step Detection Technology
Enhanced Decoupled Directions
Universal Content Compatibility via SteamVR and PSVR
KAT loco S supports hundreds of Virtual Reality games and applications. This means you will never run out of engaging VR content to play! Moreover, the KAT loco S is Compatible with all Steam VR and PlayStation VR Free Locomotion games that allow for movement around the game environment.
Universal Compatibility with Popular Headsets
KAT LOCO S is compatible with the majority of popular VR headsets available on the market. It operates through taking over the locomotion control function from their hand controllers and giving it yo the LOCO S sensors you put on your body.
Keyboard and Gamepad Support
Extended content compatibility for unforgettable VR locomotion adventures in non-VR games. The device supports many of your favorite non-VR games letting you play them in keyboard or gamepad modes.
Instructions for Upgrading
Follow us and get your new LOCO S:
- Get in touch with us via global@katvr.com and send us the serial number of your KAT loco.
- Get the new loco S for just $89 + your original KAT loco set.
- Send us your original KAT loco and provide the delivery number (We will provide you an address to send your KAT loco to. With the help of our local distributors we'll control the delivery cost and keep it at the minimum)
Your new LOCO S shall set out on its way to you right after we getting the tracking information.
Rediscover the Loco-Motion experience with the second-generation Loco S, dive into even more immersive VR experience and explore the possibilities yourself!
Thank you again for your strong support and trust! We would strive forward with that!
Team KAT VR.